How to do it
Go to the desired web page at www.statped.no with the Microsoft Edge browser.
Select method A or B:

A: Click the "Immersive Reader" icon in the "View site information" window (that is, where the URL is at the top of the page):


B: If the webpage does not have the icon as shown in A, do as follows on a PC:
- EITHER: Select the desired text and right-click on the selected text.
- OR: Hold down the Ctrl key and press the letter A on your keyboard (Ctrl+A) to highlight all text and menus on the webpage. Right-click on the selected text or in a location on the webpage where the background is without content (white).
In the menu that appears, select "Open in Immersive Reader", as shown in this video:

Translate and read text in other languages with this menu, which also pops up:


Select the language you want to translate to with «Leseinnstillinger», «Oversett», «Velg et språk», and «Oversette hele siden»: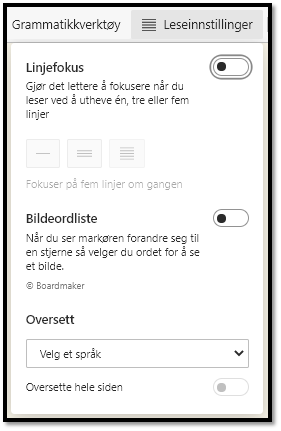 Choose to read the translated text with "Les høyt" (If necessary, select the voice of the language you have translated into with «Stemmealternativer»):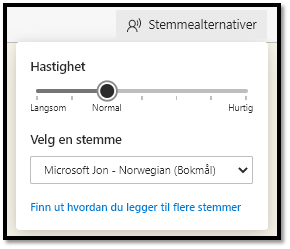 Finally, tap the "Play" symbol (if the reading doesn't start automatically):